Project Description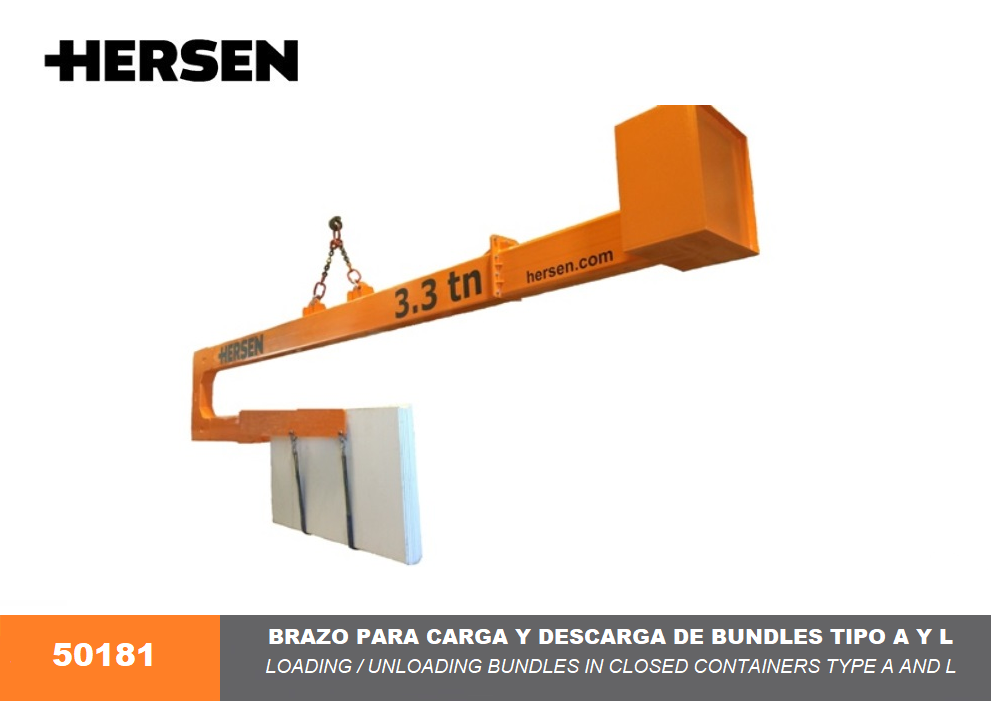 Jib Arm for loading and unloading Bundles in Closed Containers

At HERSEN we are manufacturers of crane accessories such as this arm for loading and unloading cranes. It is a very useful and practical solution for the transport, loading and unloading of packaged board packages (or bundles) in closed containers since it allows large and heavy loads to be moved very easily.
In this model of loading arms for cranes, the bundle or package of boards is in the middle of the two arms as we can see in the image above.
HERSEN bundle loading and unloading arm types:
The arms for loading and unloading bundles or packages of boards in closed containers can be manufactured with different load capacities, the most used are 3.5 and 4tn. The loading arm has an empty weight (when it is not loaded) and once it is loaded the sum of both (empty weight + load) gives us a total weight. The crane where the loading arm is installed must have the capacity to lift this total load.
The 5tn crane is one of the most widely used in marble workshops. When this is the case, to lift a 3.5 ton bundle requires that the loading arm weigh less than 1.5 ton to be able to be used in this type of 5 ton cranes. For this reason, two types of construction are made: standard (model A) and light (model L). One of the two main differences between one model and another is the following:
Curb Weight: Standard construction weighs more than light curb. In this way, with the L model, a 3.5tn bundle can be loaded / unloaded with a 5tn crane.
They can be manufactured in different sizes for the HERSEN model A and model L, although the most used and demanded are two models:
Arm for loading and unloading Model A
Load capacity: 3.5 Tn
Total length *: 7.5 m
Empty weight: 3.4Tn
Ref. 50181
Arm for loading and unloading Model L
Load capacity: 3.5Tn
Total length *: 9.6 m
Empty weight: 1.5Tn
Ref. 50182
(*) The total length refers to the upper part. As for the lower length, that is, the part that goes into the container, it is the same in both models.
(*) In the following video you can see: A 7.5m A type loading arm with a 3.5 tn bundle and the loading is carried out in a 13.5m wide warehouse with a 20ft container.
The entire manufacturing process of the arms for loading and unloading cranes, from their design to their final installation, is carried out by HERSEN.
If you want more information or an explanation of the differences between the models of loading arms A and B, you can take a look at the attached drawings in pdf or contact us directly through the form.