Project Description
Trolley with galvanized frame stand 
HERSEN manufactures this type of freight trolley, also known as a galvanized frame rack trolley (Ref. 50437). With this type of trolley it is possible to transport medium-sized parts within the facilities manually.
This type of transport trolleys are made of a steel structure which is then hot-dip galvanized. Thanks to this galvanized treatment this type of auxiliary equipment has multiple advantages. Among these benefits is the great durability and resistance to corrosive agents, which means it can be used with wet pieces without the trolley rusting.
Main features of the trolley with frame rack
This auxiliary equipment is made up of:
Galvanized structure: they consist of a UPN steel beam structure with three ribs or supports on each side of the frame rack. This confers great safety to the trolley which is intended to carry heavy-duty loads, due to the great resistance of the material that makes up each rib, which is reinforced by three structures in each of the equipment's supports. This manufacturing detail gives the equipment great support and firmness.
Each rib of the frame's base has a gap in which wooden slats can be inserted to support the goods so they do not come into contact with the trolley's steel. This way we avoid marks, breakages and scratches on the goods.
Optionally, the frame can be equipped with wooden planks to support smaller pieces.
To be able to move the frame stand trolley easily, it is equipped with rubber wheels which have a diameter of 200mm (can be varied on request). These rubber wheels avoid marks on the surface in the busiest areas. On request, they can be equipped with wheels of a different material (nylon, tyre, polyurethane etc.).
With all these elements, at HERSEN we manufacture a type of galvanized frame stand trolley which has a standard measurement of 1.2 x 1 x 1 metres, although other orders can also be built on request.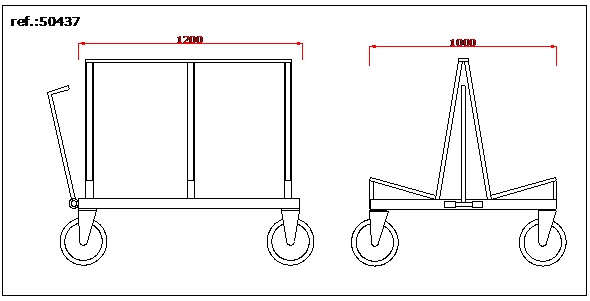 The whole production process of the galvanized frame stand trolleys, from its design to its final installation, is carried out by the HERSEN team as well as the necessary technical information.
If you need more information about this type of trolley, please contact us.
Reference 50437
Do you need more information?