Project Description
Hersen Industrial Trailer

The HERSEN Industrial Trailer is a breakthrough in the logistics and transportation of heavy cargo in reduced spaces. These heavy cargo trolleys, made entirely by HERSEN, can support loads of up to 72 tonnes. They are certified and have passed all relevant tests in technological institutions.
The model shown in the photos (Ref 50458) shows an example capable of transporting cargo of up to 14 tonnes in very reduced spaces. The measurements of this particular unit are 3m x 2.6m. However, at HERSEN we design and custom-manufacture any request of this type to meet the client's requirements.
Our range of industrial trailers comes equipped with double wheels to distribute the weight and increase safety. Additionally, the rubber surfaces on each wheel are designed to adapt to uneven floors, thus minimising vibrations on the load. The rotation system means that each of the wheels adapts to the radius required to manoevre the curve and stabilise the cargo. The steering has an advanced control system to maintain wheel alignment and thus avoid wear and tear.
The rotating system of industrial trailers can be:
Jumbo System: All the wheels can rotate conforming to the rotation of the pulling rudder to manoevre the curve. This facilitates manoeuvrability and reduces the space necessary to complete the turn. It is especially useful in premises where there is very limited space to manoeuvre.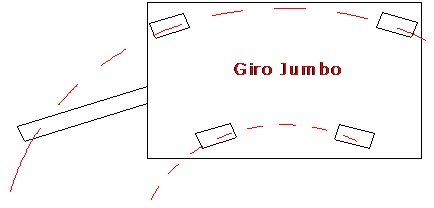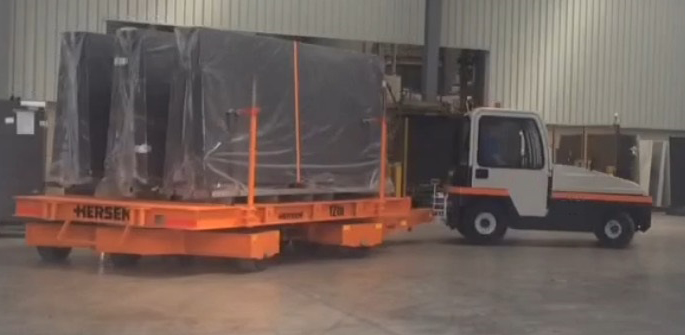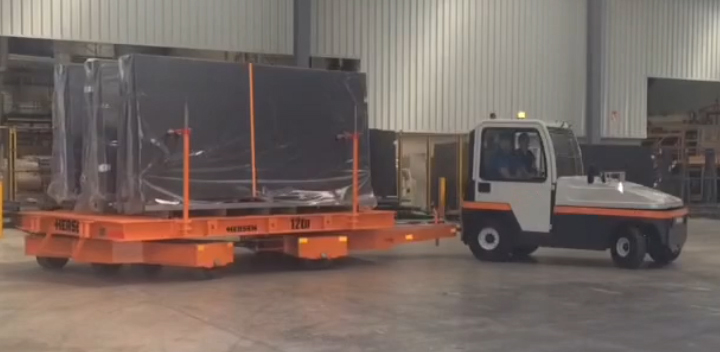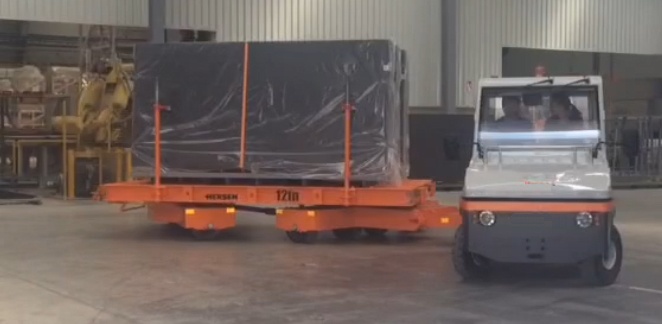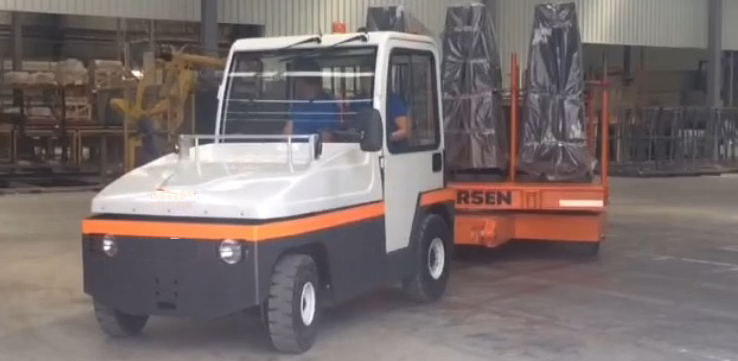 .
The rudder bends vertically to adapt the different hook heights of towing vehicles. The rudder has a support which is height adjustable.
Additionally, the industrial trailer has security bars, which are made specially for heavy cargo trolleys, protecting the operator from the risk of slabs falling during loading and unloading. There are various fitting positions to insert the security bars, which can be adjusted according to the number of slabs that have been loaded.
The most commonly used measurements are:
2.5 x 3m for cargo of 12 to 16 tonnes.
References for the HERSEN board package trolley:
50468 Cargo capacity of 12 tonnesm, two-axle rotation (Jumbo).
The entire manufacturing process for the transportation wagons and trolleys for cargo, from the initial design to the final on-site installation, is carried out by HERSEN, as well as the training on the use of the equipment, and any technical assistance.
If you require other measurements, features or special applications for this type of industrial trolley, we can manufacture them with different cargo capacities, of up to 72 tonnes. Simply contact us and we will inform you about all the manufacturing options for every type of trolley for transporting slabs.
Do you need more information?